Today, North Carolina expands vaccine eligibility to Group 4, beginning with people with high-risk medical conditions and those living in close group settings. North Carolina plans to move to other essential workers, including real estate professionals, on April 7. This multi-phase process is spelled out in more detail on our website here: ncrealtors.org/COVID19vaccine.

This is great news for all NC REALTORS®. We thank you all for working professionally with best practices during the pandemic. You've demonstrated how much REALTORS® care about your clients, your communities and the North Carolina economy. We are very happy that you will now have the protection of these vaccines.
 
Need help finding vaccines in your area? Find the vaccine locations nearest you Find out more about when you are eligible Remember, vaccines will be available to all who want it, but supplies are currently limited. You may have to wait. Also, you will likely need an appointment to get vaccinated. Please contact the provider to find out which groups they are currently vaccinating and what all you need to bring with you to your appointment.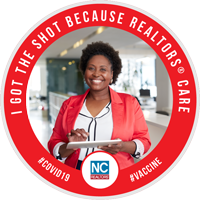 Already received the vaccine? Show your social media followers that you got the shot because REALTORS® care. Here's how to add our Facebook profile frame:
Go to facebook.com/profilepicframes. Search for "NC REALTORS® COVID-19 Vaccine" and choose the frame by NC REALTORS®.
You may adjust your frame duration at the bottom. Then, click Use as Profile Picture to save.
Please stay tuned for updates from NC REALTORS® as we continue to navigate this pandemic.
You can also visit ncrealtors.org/coronavirus for additional resources.

NC REALTORS®
4511 Weybridge Lane, Greensboro, NC 27407
(336) 294-1415 |

[email protected]

Update your email preferences.