On may 4th, various community business leaders attending the 2nd Public Works Commission tour  day.
Invited members of the community toured the in-depth workings of PWC operations and utility services.  The day included tours of…
Butler-Warner Generation Plant
Cross Creek Water Reclamation Facility
Glenville Lake Water Treatment Facility
lunch with PWC management & operations center
Emergency Dispatch
Call Center
demonstrations from line truck & sewer TV truck demo
Another PWC day is scheduled for October with local REALTORS® in the area.  If you are interested in getting your name on the list, please contact the Association office.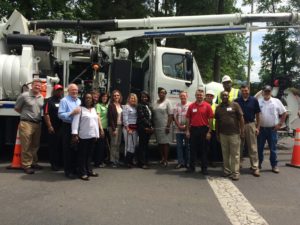 Some interesting facts from the tour…
PWC is the 36th largest municipally owned electric system in the nation and the largest in North Carolina.  It is the only city in the state that owns and operates a power generation plant.
PWC total customers = 113,596
Number of Employees – 605 (18th largest in Cumberland County)
Total services – 261,948
Vehicles/Equipment – 670
Annual Customer Contacts – 513,800 (Avg. 1,687 daily)
Annual Bills Process – $358.8 million
Amount Contributed to City in the last 10 years – $95 million
1$ million daily local spending
PWC Assets (over $1 billion)
Electric System – $389 million
Water System – $283 million
Sewer System – $423 million
PWC Financial Performance
Only five municipal utilites in entire country have a higher bond rating than PWC
PWC Community Support
PWC has contributed $95 million to the City in the past 10 years.  Recent contributions include $2 million for downtown parking deck and $900,000 to support infrastructure needs of Hope VI Grant Project.
Supported 300 plus community events and programs in 2015
Contributed $1.4 plus million to United Way agencies of Cumerland County since 1997
PWC State & National Recognition
PWC employees have worked over 5 million consectuve hours with no lost time injuries, PWC achieved this feat from 2011 – 2015
PWC has earned the Government Finance Officers Association's Distinguished Budget Presentation Award for 22 consecutive years, the Certificate of Achievement for Excellence in Financial Reporting for 10 consecutive years.  These awards were presented to less than 5% of municipalities in the nation in 2016.